If this is your first float please ensure that you read the information below & the FAQ's.
The treatment ensures that your body is in an unparalleled state of relaxation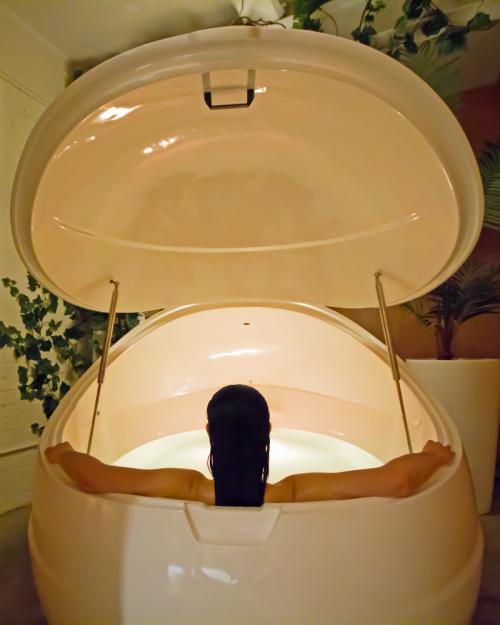 If you have any further questions please ask us.
Please do:
Get here a little early – Allow yourself plenty of time to get here – it's much harder to relax in the tank if you've been rushing. It's really good for you to allow for 10 to 15 minutes of winding down time with us before you start your session - this can affect your float immensely, especially if you have come from stressful or busy situations.
Please note: that for us to operate smoothly, professionally & punctually we must adhere to very strict time schedules - if you are late, your float session may need to be cut short to ensure the following client's appointment can start on time (this is something we really don't want to be in a position to have to do & hope that you understand our stance if it may occur). 
Allow plenty of time for your float session – We recommend allowing 2 hours for a 1 ½ hour float session as we want you to take the time to relax before your float, and after your float in our Relax Lounge before you head back out into the hustle and bustle of daily life.
Bring your aftercare products with you. We provide towels, robes, organic body wash & shampoo for your shower prior to entering the pod. We also provide conditioner for when you finish your float, body moisturiser, deodorant & a hairdryer. Anything else you like to use please bring with you...your own shampoo & conditioners, makeup remover, shower gloves, hairbrush etc.
Remove contact lenses (bring your case if you need to), and jewelery.
Drink a few glasses of water 2 -3 hours prior to your float. Hydration is important!
Eat a light meal 90 minutes prior to your float - otherwise you'll hear your tummy grumbling or digesting during your float.
Avoid caffeine, energy or sugar-fueled drinks for a half day prior to your float - you want to promote a calm nervous system to begin with.
Ask any questions you may still have – we are here to help you in any way. Let us know if you are nervous or unsure of anything, think you might be claustrophobic or tend to feel the cold.
Call us to check if you should reschedule – If you think you may be coming down with a cold/flu/illness, or if you have questions about any other medical conditions you are unsure of.
Please note that we require 24 hours notice to cancel/reschedule to avoid a cancellation fee.
Please do not:
Shave or wax within the 12 hours prior to your session.
Float if you have open wounds.
Float if you have chronic skin conditions.
Float if you are breastfeeding - this can be addressed if you are not producing much milk - please call to discuss.
Float if you have had

gastroenteritis

 in the last 48 hours.
Float if you are currently on any medication that causes nausea. Please call us to further discuss your condition.
Float straight after having your hair recently coloured or straightened (especially red, pink, purple, green & blue dyes) – please call us to further discuss as every situation differs.
Float if you have henna dyed hair.
Float if you have recently had or undergoing keratin hair treatments.
Float if you have dreadlocks – Please call us to further discuss as every situation differs.
Consume drugs or alcohol prior to your appointment – We reserve the right to refuse treatment to anyone we suspect may be under the influence of drugs or alcohol.
Float if you have recently applied fake tan or a henna tattoo.
Float if you are menstruating.
Float if you have recently had chemotherapy - please call to discuss. 
Float if you suffer from uncontrolled seizures.
Float if you have/or have had serious neck/back injuries/problems. Please call us if you wish to discuss your condition as this can usually be accommodated.
Float if you have had a tattoo within a fortnight, or if it is not fully healed.
Float with any oils, moisturisers, conditioners, perfumes or creams on your body or in your hair (we provide you with a specific organic body wash & shampoo to use before you float to remove all body oils). This is to ensure our water remains pristinely clean & pure. 
You will need to call us to discuss whether floating is suitable for you if:
You are in the early or late stages of pregnancy - we are not able to float women who are under 12 weeks or over 37 weeks pregnant. We also you to get permission to float from either your midwife or LMC as we are not privy to your medical condition. Floating is so wonderful & very beneficial while pregnant so please do call us to discuss if you have queries. 
You have had diarrhea within the last 24 hours.
Have any sort of contagious illness.
You find it difficult to get into/out of a floor-seated position or a bath tub. 
Floatation Therapy - Tory Urban Retreat