Floatation (also known as Restricted Environmental Stimulation Therapy or REST)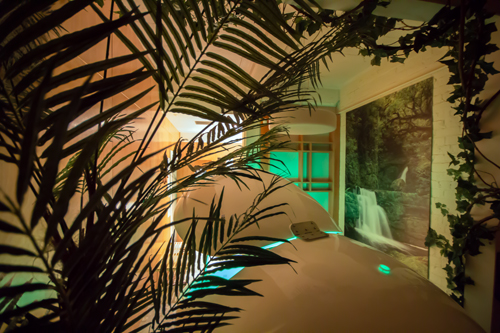 Are there situations in which I will not be permitted to use the floatation pod?
We will not allow you to float if you have any of the following conditions: Infectious diseases or serious skin disorders.  Respiratory disorders. Open large wounds.  Incontinence. Epilepsy or serious psychological conditions. Serious physical limitations. Wearing fake-tan products, tinted moisturiser or have henna tattoos. Have freshly dyed hair or bold colours.  Hair that has Henna in it no matter how old the dye is, unfortunately needs to be cut out. Have a pacemaker or have a serious heart condition. Had gastroenteritis/diarrhea within 48 hours. Have extremely low blood pressure. Have had chemotherapy (you will need to wait 2 months to be able to float). Under the influence of any non-perception drug or alcohol. Currently menstruating. Are unable to climb in and out of the pod unaided. Under 18 without parental supervision. Currently breastfeeding. Have had a new tattoo/piercing.. Those with asthma, a heart condition or diabetes should seek advice from their health care provider before coming in. Following after a massage appointment.
We expect you to inform us of any of these conditions for your own safety, and the
safety of other floaters!
Do I need to bring anything?
Not much at all! Bring any personal toiletries you may prefer; shower body gloves, makeup removal wipes & a hair brush.  You must use the shampoo we provide before you float, but feel free to bring your own shampoo/conditioners for your use afterwards.  We provide an organic range of products for you to use made by Sukin Natural Skincare.  
How long does it really take?
A 90 minute float session consists of a 5 min intro, 10 min shower, 60 minute float and 15 minutes shower and dress. In reality you would ideally allow for about 2 hours for you to have an optimum experience.  Please though, for your own sake (& ours as we run to very tight schedules), we advise you to get here 10 minutes early (15 minutes if you are a first time floater). Allow yourself plenty of time to get here – it's much harder to relax in the tank if you've been rushing. It's really good for you to allow for 10 to 15 minutes of winding down time with us before you even start your session - this can affect your float immensely, especially if you have come from stressful or busy situations.
Also, if you can, allow for some time to come back to earth slowly in our Relaxation Lounge after your float. We pamper you & give you choices of complimentary beverage & fruit. There is plenty of fresh ionised alkaline water for you to hydrate yourself with. We also top it off by serving you a few pieces of seasonal organic fruit to further refresh your body to add to your after-float-glow.
 Is there anything I should do to prepare?
Don't drink coffee, energy or sugar fueled drinks for at least 4 hours beforehand (it can make your system jittery). Also, don't shave or wax on the day of your float since the salt water can irritate your skin. We recommend that you don't eat an hour and a half before your float- basically you don't want to turn up hungry, and you don't want to turn up with a full stomach - this can impede on your float. Drink a few glasses of water a few hours before you float as the float pod does dehydrate you a little.  Other than that, there's no specific preparation needed.
Do I wear anything in the pod?
You float naked within your own private float room. We advise against wearing a swimming costume as this presses against the body and takes away from the experience of sensory deprivation. 
I have dyed/coloured hair, is this an issue?
It can be. If your dye/colour is fresh, (depending on the colour), there is a chance that the float water could bleach it, or that the dye could run into our pod water. We cant risk dying our pod or the water. If dye's still running out in your shower when you're shampooing or coming off on a white towel when you're drying it then you can't float. There are especially potential problems with red, blue, pink, purple and bright hair colours - these usually have to turn to a pastel coloured shade before you can float. We cannot float anyone with hennaed hair dye.  If you're concerned please call us to talk about this. We can also do a strand test for you to test if the dye will run if we're still unsure.
Please note: Salt water and keratin treatments do not mix well together and the salt will potentially strip some of the keratin from your hair. 
Is the pod water clean?
We adhere to an extremely strict set of testing protocols. The risk of catching anything from another floatation pod user is virtually non-existent. Epsom salt naturally kills bacteria & provides a remarkably sterile environment. Also, we pump the entire pod contents through a thorough filtration system & an ultra-violet disinfection process between each session. This removes all particles, and we use a hydrogen peroxide solution that sterilizes the water, eliminating all bacteria or viruses.
Is it medically proven to help me?
There are hundreds, if not thousands of medical papers and documents supporting the benefits of Floatation Therapy. Even without the awesome physical benefits, the mental benefits are abundant.
I like to Meditate, is floating going to help with that?
People who are used to meditating are going to love floating. You will find you adapt to it within one to two floats. 
Can I wear my contact lenses in the pod?
No, we recommend that you take them out prior to floating.
Can I float while pregnant?
Pregnant women love floating and many report feeling a deeper connection to their baby. There are a variety of special positions you can choose to float in that relieves all of the weight of your baby off your body. 
There is a lot of positive research on floating while pregnant, and it all suggests it is great for both you and baby. Especially during the later stages of pregnancy, when even simple things like sleeping can cause muscle strain. Floating relieves pressure by creating a buoyant environment where you can finally escape many of the  discomforts of pregnancy. A float session makes a great baby shower gift! Even though many woman float while pregnant, we ask that you talk to your health practitioner before you float as we are not aware of your personal health conditions. Please be aware that we are not able to float you if you are over 37 weeks pregnant. 
I am Claustrophobic
Being in the pod is more like floating in space than being in an enclosed space. You're always in control of your environment. You may keep the door open a little or fully, and light on or off. People with extreme cases of claustrophobia have consistently reported no problems.
Many people who initially express a fear of small spaces feel much better once they know they control the entire process. Their fears subside and the vast majority will go on to close the door and turn off the light!  The first comment people say after exiting the pod is "Wow, it was much easier than I expected".
What is Epsom Salt?
Epsom Salt is Magnesium Sulphate and is nontoxic. It has been used for centuries for it's healing properties. It raises the density of the water making you float and it softens your skin. It's also great to soak in if you have a magnesium sulphate deficiency & it also has vast wide ranging benefits.
Will I fall asleep and is it safe if I do?
Some people do fall asleep, it's completely safe, you float on your back with no tendency to turn over, you wake refreshed.  It is actually very difficult to roll over due to the high density of salt which make the water so buoyant that it is impossible for you to sink or accidentally turn over. The sensation of effortlessly floating is difficult to describe until you experience it! At the end of the session gentle music will come on and wake you peacefully. And if you are in a really deep sleep, the water will start circulating 2 minutes after the end of the session when the filtration process begins. So you can focus on completely letting go. It may be just what your body needs!
Do I have to stay in the whole time?
You can get out at anytime you want. 
Are there any negative side effects?
There are virtually no negative side-effects. All the effects of deep sensory relaxation are wholly beneficial and work simultaneously at a physical, mental and emotional level.
Can I float if I'm menstruating?
No.
Is it true that floating cures jet lag & fatigue?
Yes. Research shows that floating is much more effective than bed-rest.
Might I be too heavy to float?
No, everyone can float! The only thing that you need to be able to do is get in and out of the pod unassisted – it's like getting into a bath.
Do I need to be able to swim?
No, it's more like taking a bath where you float, than going for a swim; the water is only 28cm deep.  For non-swimmers it's a wonderful feeling of floating like they've never experienced before. It is very helpful for us to know if you don't know how to swim, so we can help you with your float process.
What effects does floating have on the body?
In the gravity free environment the body balances and heals internally as all the senses are rested. Research shows that floating measurably reduces blood pressure whilst lowering the levels of stress related chemicals in the body. Old injuries and aches experience relief as floating helps reduce signals from the brain. Floating is used widely in the treatment of stress, anxiety, jet lag and to improve concentration and creativity. Sports performance and 'wind down' is also enhanced during floating.
What effects does floating have on the mind?
During a float you produce slower brain-wave patterns, known as alpha and theta waves, (normally experienced only during deep meditation or just before falling asleep). This is usually accompanied by vivid imagery, very clear, creative thoughts, sudden insights and inspirations, or feelings of profound peace and joy, induced by the release of endorphins, the body's natural opiates. Because of these effects floating is used effectively in the treatment of depression and addictions, including smoking and alcohol. It is also used in schools and universities as a tool for Super Learning.
How long till I am good at floating?
You may need to float a few times before you are able to relax completely, both physically and mentally. Depending on your own journey through life, a float might provide an hour of total physical relaxation – or a profound healing experience, emotionally and spiritually transforming. Floating can be a wonderful aid to opening doors into your inner world, gradually allowing access to those deeper levels at which real changes take place.
Is there a best time to use the float pod?
No. This is a matter of individual preference. Some people prefer day time, some prefer night. 
Is there a cumulative effect of using the float pod on a regular basis?
Yes. There certainly is a cumulative effect with consistent use of the float pod. Floatation Therapy uses sensory isolation as an induction to the "relaxation response" which equates with meditation.  Simply by floating, you train this response and become skilled at accessing it.
What do I need to do before I float with Tory Urban Retreat? 
To float with us you must;
a) Be clear of all of the conditions where you cannot float
b) Read and understood all the FAQ's
c) If you're a first time floater, read & understand our Beginner's Guide
Floatation Therapy - Tory Urban Retreat